2017 Wedding Trends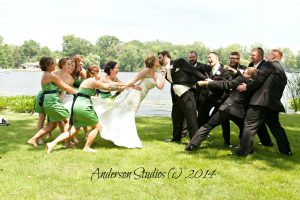 Things change and evolve in the wedding industry, but never overnight. It takes a few years to really see major trends, but I can tell you a few things that have caught my eye over the past year when I have photographed or videotaped weddings.
Tribute charms or lockets hanging from the stem or handle of the brides bouquet is a huge trend. These are lockets with a picture of a family member that has passed away. It is a very special way of holding them close to you during this big event.
Flowers arraignments at the reception are getting smaller. For a while arrangements were so big and on pedestals that they would blocked guests view of each other at their tables. Succulents are popular as a low growing plant arrangement.
Many brides are getting away from flower arrangements totally at their tables and using lanterns or beautiful candles.
Candy tables are back. They were popular about ten years ago and kind of fell out of favor for awhile but I am happy to say they are back. Some will have vintage candies like dots or candy cigarettes. Others will have homemade candies or a mix of everything.
Photo booths are very common now at weddings. What makes me sad is that many brides choose a Photo Booth over a wedding video at a wedding. Don't get me wrong, I like photo booths, but if you have to choose either a booth or video because your budget is tight… Go with the video. Video really takes you through the day with sound and movement. It may not be something you watch very often, but it can really bring you back to your wedding day like nothing else can. I have never had a couple regret having video, but I have had plenty regret that they did not!
I do see more and more couples doing a selfie area at a wedding instead of a photo booth. They put up a backdrop usually something with their wedding date on it and people can come over and take a selfie. Some make it look like a red carpet area at an awards show. Super cool inexpensive idea.
Straps on wedding gowns are slowly coming into favor. I am seeing more and more each year.
Wedding cakes are still popular, however a couple may have a small cake to cut and delicious cupcakes for their guest. One wedding I photographed last year had cannolis instead of cake. Very Yummy! A cake secrete I have seen over the years is they have a large cake, but only the top layer is real. The couple cuts the real layer at the top and then the cake is taking in back. The venue cuts and plates a Costco cake and brings it out and serves it to the guests. No one knows the difference.
Guest no longer just sign in at a wedding. Couples have gotten very creative with asking you to give advice or congratulations on drawings, photos, and wooden boards. This becomes a momento they hang in their home.
The groom and groomsmen's outfits have not change a whole lot over the years. The tux is still king, but matching cufflinks are a happening. They may even be super hero themed. The trend of matching socks is still very popular with the guys.
To wrap things up… I hope you have enjoyed my wedding Trends for 2017. If you are looking for a wedding photography or video please don't hesitate to email, call or make an appointment to come in and meet with me. I do still have some dates available for 2017 and I am starting to book for 2018. I would love to hear from you. Right now is a great time to book! If you book us for a wedding before March 30th, 2017 you can get $200.00 off any wedding photography or video package and you can get $300.00 off any Photography/Video together package! Call 810-229-4971 or Email me at info@andersonstudios.cominfo@andersonstudios.com. Click on my Facebook Icon on the top of the page to see more examples of my work.
Thank you,
Judy Anderson
Anderson Studios Photography & Video
810-229-4971
info@andersonstudios.cominfo@andersonstudios.com
www.andersonstudios.com
or click on my Facebook Icon.